From published author and 30-year military veteran to football player and Corpus Christi podiatrist, Dr. John Gouin has an exceptionally lengthy list of accomplishments.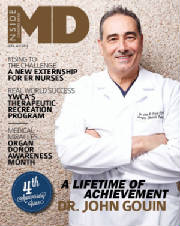 Photograph by: Dustin Ashcraft
Dr. John Gouin has accomplished many things in his lifetime; it's hard to keep track of what he did when. A college football star with a stint in the pros, a medical doctor with decades of experience, a 30-year career in the military that began in the U.S. Army Special Forces and ended with a Bronze Star Medal and an Order of the Military Medical Merit award and a published author – it's difficult to believe that one man has done so much and is still young enough to have teenage children.
But Gouin, who is humble about his storied career, says he didn't start out believing in himself. Gouin grew up in a small French Canadian speaking town in Rhode Island. He excelled in athletics and went to college on a football scholarship, but was focused on the sport and says he didn't bother with the academics.
In 1975, the New England Patriots signed him on as a free agent, and his dream to play professionally was realized. But this dream was short-lived: Knee injuries ruined his chances just as he was beginning. The Cincinnati Bengals briefly considered him, but nothing materialized, so he was faced with an uncertain future.
Back in Rhode Island, with no job and no discernible skills to fall back on, Gouin struggled to deal with his disappointment. "I fell in with a group of shady characters like these 'good fellas,'" Gouin said, pointing to a poster of the Sopranos in his office, near CHRISTUS Spohn Hospital.
His father, an abusive alcoholic who had beaten Gouin as a child, resorted to degrading and belittling his son, who was now too big to beat. "He told me I was a failure and would never amount to anything," Gouin said.
This was a pivotal moment for Gouin – he eventually was incarcerated overnight. Despair and a life of crime were very real possibilities, but Gouin decided it was time to take control of the situation.
He knew the only way to extricate himself from his faux friends, with whom he was entangled without repercussions, was to join the military, so that is precisely what he did.
He could have coasted along in the military, serving his time and getting his life back together for when he got out, but Gouin says that's not his way. "I didn't want to take the easy way out," Gouin said. "I wanted adventure. I wanted to get something out of my experience. I wanted to do as much as I possibly could and learn as much as there was to learn." And that's precisely what he did.
Gouin joined the Green Berets and put into his experience everything he had – taking on every task they dished out to him and eagerly learning everything he could. What he got out of it, he says with a touch of pride in his voice, was nothing short of a worldly education.
"They gave me the discipline I needed – the confidence I lacked," Gouin said. He became a light weapons expert and spent time as a sniper. But he found himself most interested in his training as a medic, specifically in identifying and treating foot ailments in soldiers. "We saw a lot of stress fractures from all the marching, and then paratroopers would get shattered ankles from a bad landing," Gouin said.
So after his three-year stint was up, he left and went back to school, attending the University of Rhode Island for undergraduate school. While he was in school, he worked the summer at a bar on the beach. That's where he met a professor from his university who ran its ROTC program.
"He found out I had been in Special Forces, and he had been in Special Forces for 10 years," Gouin said. "So he encouraged me to join the program, and the next thing I knew, I was a lieutenant."
Medical school in Chicago followed undergraduate school. Nearing completion of his three-year residency program, he took a road trip down to Corpus Christi in 1989. While here, he knew immediately that this was the place for him. After completing his residency, Gouin says he had to go to San Antonio for three months for military training.
The first Gulf War had broken out, and Gouin signed up to be deployed, but the war ended before he was sent over. It was time for Gouin to decide where he was going to hang his shingle as a podiatrist; he chose the Sparkling City by the Sea: Corpus Christi.
"I didn't want to shovel snow anymore, and I wanted a beach and warm weather," he said. "I tried California, but it was too expensive, and I looked at Florida, but everything there was Mickey Mouse.
"Here in Corpus Christi, the people were very friendly, kind and courteous. I was surrounded by good old-fashioned Texas hospitality and charm. The city was large enough to be interesting, but not so large that you had the traffic and sprawl of San Antonio or Houston."
Gouin has been living on the island ever since that fateful day when he first drove into town.
He continued to serve in the military while pursuing his medical career, so when the war broke out in Iraq, he knew what he had to do. In 2004, he was working in the Reserves and saw troops deploying.
"I heard a friend of mine was going, so I called him up and asked if he needed another doc," Gouin said. "And he said, 'Yep, and we're leaving in three weeks.'" Gouin spent those three weeks frantically getting the necessary certifications to be eligible to go and trying to prepare his medical practice for his time away.
"It all went so fast, my head was spinning," Gouin said. After three weeks of training, he went home for Christmas. It snowed on Christmas Eve at his Christmas dinner, and he got on the plane for Iraq that afternoon.
While Gouin was there, he got the call that his father was dying. He was flown home to say his goodbyes – not an easy task for a son whose relationship with his father had never recovered from past hurts.
But as he left his dad for the last time, he says an unforgettable thing happened. He told him goodbye on the deck of the family house, but as he was walking away, he could feel his father's eyes on his back. Gouin turned around, to see his father standing and giving him a military salute.
"That was the last time I saw him alive," Gouin said. The experience was so moving he wrote a book about it: "An Unforgettable Salute." The memoir chronicles his time in Iraq and his road to peace with his father.
After his year in Iraq, Gouin returned to Corpus Christi and began building his practice back to a healthy state. He credits his good friend and medical assistant, Maira Soto, for keeping the practice alive during his absence.
Gouin served as commander of the 228th Combat Support Hospital in San Antonio. His personal awards and decorations include the Legion of Merit Medal; Bronze Star Medal: Meritorious Service Medal with Oak Leaf Cluster; Army Commendation Medal with Oak Leaf Cluster; Army Achievement Medal; Army Good Conduct Medal; Army Reserve Components Achievement Medal, National Defense Service Medal with Bronze Star Device, Iraq Campaign Medal; Global War on Terrorism Service Medal; Armed Forces Reserve Medal with "M" Device; Army Service Ribbon; Special Forces Tab; Combat Action Badge; Expert Infantryman Badge; Parachute Badge; and the Army Meritorious Unit Citation, Army Superior Unit Award and Order of Military Medical Merit Award.
Gouin met the love of his life after he returned from duty. He and his wife, Michelle, now reside on the island with his two stepchildren, Ashlynn and Brennan. For Gouin, who at 22 years old could not conceive what the future could hold for him, much has been achieved. He credits the support of his mother, Theresa, who he said always encouraged him to work hard, to achieve his goals and to never give up.
"She told me that if you want to do something, you do it all the way – and that you can do anything you want if you put your mind to it." It seems that Gouin has done just that.
Corpus Christi Podiatry is located in Physician's Plaza West at 2601 Hospital Blvd., Ste. 211, Corpus Christi, Texas 78405. Office hours are 8 a.m. to 5 p.m. on weekdays. For more information, call 361-883-5955.